University Of Slabovia
History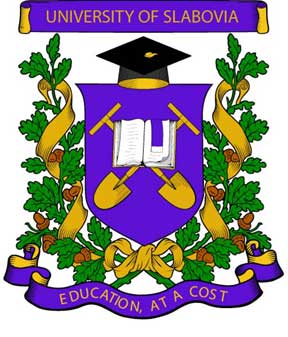 ---
Coat of Arms of the University of Slabovia
Application Process
In order to gain acceptance to any of the below-listed faculties, the following process must be followed:
Send a letter of Application to the University of Slabovia indicating which program you wish to apply for, and outlining your academic qualifications and background.
Provide an endorsement.
Submit a cheque, money order, cash, or evidence of a wire transfer to cover the following fees:
T42.00 Administration Fee (Slab U);
T1764.00 Evaluation Fee (Slab U);
Tbleem Application Fee (Slab U); and
Ł10.00 Consideration Fee (Dave Yarker, Department Head, Department of Uneducation, Slabovian Civil Service)
4 Cokes (Chancellor's bribe)
Dr. Stephen Clarke, Chancellor
University of Slabovia
E-Mail: Stephen@stephenwclarke.com
Evaluation Technique
The Applicant shall be evaluated by the Chancellor at his discretion, as well as by some other member whom he may or may not see fit to appoint, using evaluation techniques that are probably approved by the Department of Uneducation, Slabovian Civil Service.
Slab U Special Awards
The Harvey Podzinsky Award - Outstanding Fabrication in Journalism
The Captain Pat Award - Most Outrageous Use Of Cyber-Techno-Terminology
The University of Slabovia would also like to announce the introduction of its new support network for Dead Paeple
Faculties and Degree Programs
B.Calm in Creative Accounting
B.Calm in Yep! (Yes-Man)
B.Calm in Magnanomics
B.Calm in Coercive Subversion
B.Calm inCompetancy
B.Calm in Spamanomics
B.M.S. in Rocket Science
B.M.S. in Creative Mathematics
B.M.S. in Chaos Replication and Propagation
B.M.S. in Entropy
B.M.S. in Phredography (minor in linguistics)
B.M.S. in Temporal Macronomics and Time Studies
B.M.S. in Maritime Agriculture
B.Funk in Basic Hand Tool Theory (prereq: Screw Driver Design; Co-req: Black & Blue Thumb)
B.Funk in Hard Hat Haute-Couture (Prereq: Portfolio)
B.Funk in Navel Architecture (Prereq: Portfolio)
B.Funk in Equipment and Technology Design
B.Funk in Temporal Integration
B.Funk in Cactus Transformations
B.Funk in "Kitsch"en Appliance Networking
B.S. in Political Science (Prereq: Born Dave Yarker, or dead; prereq: degree in Magnanomics) Limited Enrolment
B.S. in Creative Mathematics
B.S. in B.S.
B.A. in Uneducation (Prereq: Basket weaving)
B.A. in B.S. (Prereq: Basket weaving)
B.A. in Inventive Journalism (Prereq: Basket weaving)
B.A. in Creative History (Prereq: Basket weaving)
B.A. in Ghoti (pron.: 'fish) (Prereq: Basket weaving; Co-req: Surrealistic Submission)
B.A. in Llamanic Studies (Prereq: Basket weaving)
B.A. in Spam Quizeen (Prereq: Basket weaving)
B.A. in Interpretive Bridge Building (non-dental) (Prereq: Basket weaving)
B.A. in Unanimous Non-conformity (Prereq: Basket weaving)
B.A. in Wheelbarrow Ethics (Prereq: Basket weaving)
B.H.S. in Human Geology
B.H.S. in Creative Surgery
B.H.S. in Live Taxidermy
B.H.S. in Nutritional Studies (minoring in Beer, Chocolate, Pizza and Beer)
B.Cy.T. in Cyber-Philosophy
B.Cy.T. in Cyber-Semantics
B.Cy.T. in Cyber-Geography (Prereq: degree in Phredography)
B.Cy.T. in Cyber-Ethics (spec in Inter-Galactic Spamming) (Prereq: degree in Spamanomics)
B.Cy.T. in Cyber-Llama-Abuse
B.Cy.T. in Environmental Studies
B.A., M.A., PhD in Beer
B.A. in Liver Embalmination
B.A. in Liquid Divination
B.Sc. in Molecular Mixology